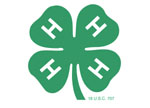 University of Wisconsin-Extension programs in Positive Youth Development give young people opportunities to learn new skills, gain self-confidence and contribute to their communities. Backed by the knowledge and research base of the University of Wisconsin, Positive Youth Development educators design educational, leadership and citizenship experiences for youth. These programs are delivered directly through more than 20,000 adult volunteers in neighborhood 4-H clubs or groups and by collaborating with other local organizations.
OUR PURPOSE
Through research, education and community-based partnerships, Extension Adams County Youth Development programs are focused on helping young people become productive citizens.
Adams County offers a variety of youth programs. Please use the links below to find out more.
More in this Section