Serving as Youth Leaders
Sayl
Serving as Youth Leaders (Sayl) is open to all Adams County residents 10th – 12th grade.
Want to get more involved in your community?
Would you like to have a voice in your local government?
How about job shadow opportunities?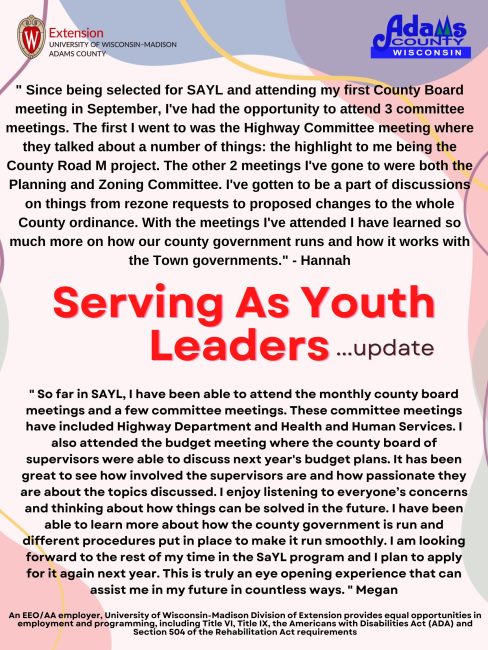 The Serving as Youth Leaders (Sayl) program offers all of that plus more. Sayl is a great opportunity to learn valuable life skills such as public speaking, leadership, critical thinking, problem-solving and decision making. And a great program to put on your resume!!
Below is a list of the Committees. You will be able to choose to serve on one or a different one each month:
Administrative & Finance Committee

Corporation Counsel
County Clerk
County Manager/Administrative Coordinator
County Treasurer
Human Resources
MIS (Management Information Systems)

Health & Human Services & Veterans Services

Health & Human Services
Veterans Services

Highway
Land & Water and UWEX

Land & Water Conservation
University of Wisconsin Division of Extension

Library Board
Planning and Zoning

Planning and Zoning
Register of Deeds

Property & Recreation
Public Safety and Judiciary

District Attorney
Child Support
Clerk of Circuit court
Register in Probate
Emergency Management
Medical Examiner
Sheriff's Office

Solid Waste
Contact Evan Henthorne at evan.henthorne@wisc.edu or 608-339-4237 for more information.